News
News
Tofino to be used in Honeywell OneWireless Firewall
2009 09 02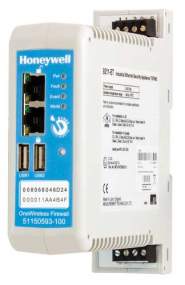 MTL Instruments, a division of Cooper Crouse-Hinds, and Byres Security Inc. have announced that Honeywell has selected Tofino™ technology for its OneWireless* Firewall. The Honeywell OneWireless Firewall is designed to sit between Honeywell's Experion* Process Knowledge System (PKS) control system and the OneWireless network, providing an additional layer of protection against unwanted and harmful network traffic, thereby promoting control system integrity. The product is available from Honeywell.

The OneWireless Firewall is compliant with Experion R311 and is the second network security product from Honeywell based on Tofino technology (the first being the Experion Modbus TCP Firewall).

"We are delighted that Honeywell is expanding its relationship with us, showing that Tofino technology is effective for Honeywell customers, and that there are multiple applications for Tofino within the Honeywell product," said Joann Byres, CEO of Byres Security Inc. Unlike IT-style firewalls that require highly-trained staff for installation, the OneWireless Firewall automatically works as soon as it is connected to the network. The product filters bi-directional network traffic, allowing only wireless I/O on both directions, while blocking other data types.

"Honeywell is taking a holistic view of security by protecting both its OneWireless networks and wired communications, such as Experion control networks, with multiple layers of protection." remarked Eric Byres, CTO of Byres Security Inc. "The Tofino technology in the OneWireless Firewall provides an easy way for Honeywell's customers to achieve in-depth security with a simple zero-configuration module."

For further product information ...
---