News
News
New wall mounting annunciators from RTK
2009 10 08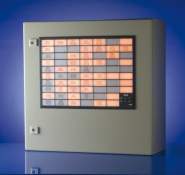 RTK Instruments now offer a Wall Mounting Annunciator range which is supplied as a finished Alarm System ready to mount onto a wall or vertical structure. The system is a fully operational Annunciator System complete with MCB, Power Supply, audible, control pushbuttons and terminals. The System can be supplied with a choice of different Annunciators depending on the application requirements, such as the 725B Alarm Annunciator/Event Recorder, the SIL725 Safety Annunciator, the Series 725 Programmable Annunciator or the UC625 Compact Alarm Annunciator.

All alarm ways are wired to terminals ready for direct connection on site through the bottom un-drilled gland plate. All that is required is the connection of the supply voltage and the alarm contacts. The Annunciators can be supplied in a variety of different enclosure materials: stainless steel, mild steel coated in epoxy polyester in light grey or glass reinforced polyester. The wall mounted boxes are all equipped with a means of mounting directly onto a wall or frame. Depending on the size and weight of the box, this will be through internal mounting holes or external mounting brackets. The Annunciator can include a Power Supply, DC/DC Converter or battery backed standby supply.

The standard protection of the box is IP55 but the front of the Annunciator itself is sealed to IP41. Alternative arrangements can be provided to give an IP54 or IP65 protection of the whole assembly.

For product information ...
---