News
News
New highest performing modular Surge Protection Device for complete process reliability
2017 03 23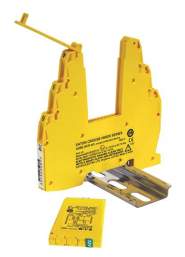 We are pleased to announce the launch of our MTL SD modular device range, which continues to deliver higher levels of surge protection and is designed for easy installation, commissioning and replacement. Our new MTL SD Modular range provides comprehensive protection from transient surge events up to 20 kA, the highest level of protection currently available for a modular pluggable device which is coupled with the highest packing density on the market. With over 50 per cent of premature electronic equipment failures being attributed to surge and maintenance failures, our MTL SD Modular range offers complete cost-effective surge protection to valuable instruments and distributed control systems.

"The delicate circuits and devices in today's equipment and systems make their susceptibility to transient surge events much greater," said Roger Highton, MTL Process Connectivity Product Line Manager at Eaton. "Underestimating the importance of reliable surge protection devices can be extremely costly if the worst should happen. The MTL SD Modular range is unique in offering 20 kA protection with a module width of just 7 mm, allowing maximum protection of valuable assets in minimal space."

The design of the MTL SD modular device reduces maintenance cost and downtime, as modules can be quickly and easily replaced. The pluggable part is held in place with a simple retention tag and can be removed from its base without de-energising the protected device, saving the user valuable time and complexity. This is achieved using an innovative 'make before break' design to ensure uninterrupted loop operation during replacement. Additionally, the slim-line footprint of the surge module increases the packing density, resulting in saving both space and cost, which potentially reduces the number of cabinets needed.

A diagnostic LED option is available to provide a clear, visual indication of a failed module so that engineers can immediately see which module to replace. A portable surge test device is also available, allowing users to simply check the health of each module during routine maintenance.

This new modular range inherits the proven reliability of the MTL SD range, increasing system availability in a wide range of industries including oil and gas, chemical, power and water/wastewater. With versions available for all process signal types, they are ideal for panel builders, system integrators and engineers looking to protect electrical and electronic assets. The range is fully ATEX/IECEx certified for use in intrinsically safe applications, is SIL suitable and is designed to meet global standards.
For more information on our MTL SD modular device range click here.
---