News
News
New fieldbus wiring hubs give 25% capacity boost
2006 06 02
MTL-Relcom has launched four 12-port versions of the best-selling Megablock wiring hub for use in modern fieldbus networks. The FCS-MB12-SG-T, F215, F271 and F271-XE feature an integrated switched and switchable terminator respectively thus increasing the range of options to include 2-, 4-, 8-, 10- and 12-drop versions.
Megablocks minimise the amount of hand wiring required in the field and allow individual fieldbus devices to be added to and removed from the segment without disrupting network communication. Most modern fieldbus projects use a chickenfoot topology accommodating 10 field devices and 2 spares thus making the 12-drop Megablock ideal for the majority of installations. The range provides versions for installation in all hazardous areas with certification that covers all hazardous-area protection techniques. Multiple Megablocks can be simply wired together to allow larger segments to be constructed. The built-in SpurGuard™ option provides short circuit protection of the connected spur thus protecting the segment from failure due to devices failing short-circuit, shorting of spurs during maintenance or ingress of water in a field device.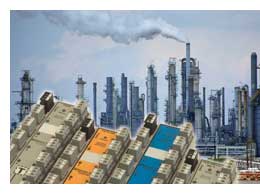 The 2 and 4-drop Megablocks are ideal for the bus configured with spurs topology whereas the 12-drop version with integral terminators is ideal for star- or chickenfoot-topologies where several transmitters are connected at a single field junction box. Occupying approximately the same junction box space as conventional 4-20 mA wiring, Megablocks are ideal for both retrofit and greenfield installations and although Megablocks provide over-voltage protection, for maximum protection it is recommended that FP32 and TP32 Surge Protection devices are incorporated in the network design.
---