News
News
MTL opens new headquarters facility in U.K.
2009 07 08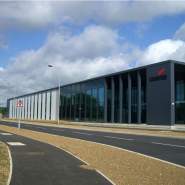 In April 2009, MTL Instruments and its subsidiary HiTech Instruments moved to a new 89,000 sq ft purpose built headquarters facility at Butterfield Park on the outskirts of Luton. The new facility brings together, design, development, engineering, manufacturing, shipping, support and marketing functions under one roof for the first time since 1977 when its Power Court facility was opened.

The new facility accommodates 36,000 sq ft of manufacturing and is home to the new 4500 and 5500 range of IS isolators, the extensive range of MTL fieldbus products and the HART interface and backplane solutions. The production area uses the very latest "pick and place" component insertion machines along with flow and wave solder facilites.

The 42,000 sq ft of air conditioned office space is home to the sales and marketing functions for both MTL and Hitech Instruments as well as the finance, procurement and shipping facilities.

To download a pdf map of the new facility .
---