News
News
Intrinsically Safe Ethernet gives access to Zone 1 and Zone 0 hazardous areas
2008 04 21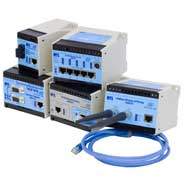 MTL Instruments, a part of Cooper Crouse-Hinds, is pleased to announce the release for sale of the 9400 Series Intrinsically Safe (IS) Ethernet range and the launch of an enhanced Power supply, 9491-IS, which incorporates MTL's patented Fast Switch technology.
The 9400 IS Ethernet range of hardware devices that can deliver Intrinsically Safe (IS) Ethernet into Zone 1 and Zone 0 hazardous areas. The deployment of Ethernet into Process Automation has long been hindered by the hazardous area classification in which the end device is often installed. Consequently the majority of Industrial Ethernet installations have been in the Factory Automation environment. Additionally, in Process Automation it is preferred to use a single cable providing power and communications to the end device. The 9400 Series delivers Intrinsically Safe "Power over Ethernet" (PoExTM), allowing live connection and disconnection of the end device in Zone 0 and Zone 1 hazardous areas typically reducing the cost of installing the LAN in hazardous areas by 40%.
The 9400 series comprises a wireless LAN access point, managed Ethernet switch, copper to fibre media converter and serial gateway that are certified to be mounted in a Zone 1 hazardous area with connectivity into Zone 0. Additionally, Zone 2 mounting IS Ethernet isolator and associated IS power supply complete the product range. The 9491-IS power supply uses MTL's patented Fast-Switch technology to allow live power connection/disconnection without the need for a gas clearance certificate.
The Ethernet Gateway gives legacy Intrinsically Safe equipment "Ethernet connectivity" by allowing conventional serial communication port equipment to be connected to an Ethernet network. This enables easy integration of a wide range of IS serial measurement devices including analysers, weighing systems, dust monitors, displays, I/O etc. into today's control systems.
The IS Wireless LAN product is a multi-functional module that can be used as an 802.11a/b/g/h Access Point, Wireless Bridge or Wireless Repeater. This provides hazardous area infrastructure for the mobile operator using Intrinsically Safe PDA's anywhere on the process plant. The IS managed Ethernet switch allows the interconnection of intrinsically safe Ethernet networking components via its 5 ports. The Ethernet switch can also distribute power to compatible devices connected to each of its five ports, thus providing Intrinsically Safe "Power over Ethernet" (PoExTM) via the RJ45 Cat5e cables. The Fibre Optic Media Converter allows an Ethernet network to be extended over a greater distance.
This technology has been proven in use in many mining applications, and with the new ATEX and IECEx certification the 9400 series delivers the same benefits for all process industries.
---