News
News
Eaton support Yokogawa with its New CENTUM® VP R6.01 Integrated Production Control System
2014 12 02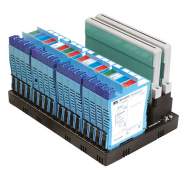 We are extremely pleased to announce that we have been supporting Yokogawa in the development of its next generation integrated production control system, CENTUM VP R6.01. Yokogawa wanted to design a new system with an intrinsically safe universal input/output (I/O) module for greater efficiency in system configuration and engineering and approached MTL, part of Eaton's Crouse-Hinds business, for its expertise in intrinsic safety devices for hazardous area and general process control applications.

"We have a long standing relationship with Yokogawa, having worked together globally for more than 20 years on various projects, so we were delighted once again to partner with them on the CENTUM VP R6.01," said Riccardo Codega, MTL marketing director, Eaton's Crouse-Hinds Division. "We worked closely with them to understand their requirements for a universal I/O module and recommended our MTL4500 intrinsic safety isolators, which have been adapted to work in a universal environment. The backplane mounting series is designed with systems vendors in mind and is perfect for DCS applications such as this."

Yokogawa, a leading manufacturer of process control instrumentation, distributed control systems (DCS) and test and measurement instruments, launched its first version of CENTUM in 1975, and the company has continued to improve the platform by applying the latest technologies.

Recognising the challenges faced by today's manufacturing plants for increased flexibility as well as improved process efficiencies, with the need to maintain safe operations, Yokogawa wanted to develop an intrinsically safe universal I/O module that would allow its customers to reduce the time required for installing and configuring a control system.

"We chose to work with Eaton MTL for its credibility and expertise in intrinsic safety," said Nobuaki Konishi, Vice President of Yokogawa Industrial Automation Platform Business. "The company is recognised in the industry as being a key supplier and we were confident we could rely on them to provide a high quality and safe solution."

As part of the CENTUM VP R6.01, Yokogawa has expanded its range of I/O devices, which are critical control system components, and a key feature is a new N-IO field I/O device with an I/O module that can easily handle multiple types of I/O signals. As such, it eliminates the need for I/O modules to be replaced according to the signal they convey, which reduces rewiring, footprint and the time spent on installation and associated costs.

Eaton's MTL product specialists added additional diagnostic features and functionality so line fault detection is integrated into the Yokogawa system. Now, there are channel level diagnostics in the control system that help users avoid downtime and increase plant productivity.

A key benefit of the MTL4500 Series isolators is that the base plate does not require intrinsic safety certification. The field connection is on top of the module, so it does not need any additional accreditations and it is accessible to all regions worldwide. As a result, the approval process into a plant is simplified in virtually any application.

The MTL4500 isolators are a compact integrated solution for flexible cabinet layout. Incorporating advanced circuit design, a common set of components and innovative isolating transformer construction, the isolators achieve a significant reduction in power consumption while increasing channel packing densities. The 16mm wide design reduces weight and gives exceptionally high packing density.

Eaton's MTL4500 isolators are plug-and-play with easy commissioning and set up, therefore simplifying project engineering and reducing installation and maintenance costs. The design is based on existing, proven technologies and provides a reliable solution for manufacturing plants and process industries including oil and gas, petrochemicals, chemicals and pharmaceuticals.

Eaton continues to work closely with Yokogawa in its development of control systems that will provide customers with an improved operating environment by increasing the safety and efficiency of their operations and achieving greater synergy between their control system and field devices. In addition to improving production efficiency, this will allow the optimisation of maintenance of the production control system, safety instrumented system, programmable controllers, all field devices, and other components, thereby reducing costs and ensuring the long-term stability of operations.
Read more information from Yokogawa
---