News
News
Absolutely no room for defects with our new Ersa soldering systems
2017 04 26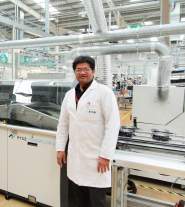 After an interview with Dipen Dixit, our Manufacturing Engineer at our Luton facility, Kurtz Ersa published an article about why they were selected to complete the installation of our two new ERSA soldering systems - a full-tunnel wave soldering unit POWERFLOW e N2, and a reflow soldering unit HOTFLOW 4/14. Having these systems installed, ensures energy efficiency while complying with the RoHS-EU-Guide lines, as well as increasing the production capacity while maintaining high quality levels. Read on to see what value this installation brings to our business.
Optimal manufacturing solutions, optimal support
The first contact to our business was established by Ersa's sales partner Blundell Electronic Production: A new system had to be sourced for our 12 year old wave soldering system. Two suppliers were on the short list – one of them Ersa. Initial specification was for an open system, no nitrogen.

"Many highly security-critical processes are monitored, controlled, visualized or protected by our Eaton MTL products, such as offshore oil and gas platforms, power plants or refineries. And with our own global network of sales and service facilities, our customers are always in the best hands," states Dipen Dixit. He continues: "During the equipment evaluation process, it showed that Ersa not only is the market leader in soldering technologies, but it also proved to be a supplier that will use poka-yoke solutions – inadvertent error prevention – when striving to fulfil its customers' requirements. Ersa possesses excellent know-how – and this, combined with the service and support based in the UK, made Ersa/Blundell the perfect match for us!"

Back to the wave soldering system
For the initial test of the soldering system, we visited Ersa's demo center in Wertheim. Tests were performed on the equipment, processes evaluated, and the hardware and software was scrutinized under different scenarios. With its singular knowledge for optimal manufacturing solutions, Ersa could show that a nitrogen wave soldering unit would offer substantial benefits when compared to an open system. It offered higher process safety, improvement in product quality and in operating costs. Also, the quick and easy access to the fluxer unit and the solder waves was noted.
During discussions, ERSA noted we were also purchasing a reflow soldering unit. We had certain criteria that needed to be met such as; an exit temperature of the boards of less than 35 °C. Therefore, the Ersa HOTFLOW 4/14 also impressed us with its high uptime, thermal performance and superior energy balance, which meant that Ersa was also chosen for this order. "Though we were very pleased to have received these two purchase orders from Eaton MTL, we had now one concern: in addition to the system installations, the facility of Eaton had to be fully converted to the lead-free process in just one weekend," states Ersa's Area Sales Manager Christian Ott.
To accomplish this, the switch had to be thoroughly investigated: The lead-free process requires different temperature profiles, so that the parameters of the tin/lead process are not transferable. This meant that all products had to be parameterized in advance, so that production could smoothly commence following the installations. It was therefore decided to ship the systems to Blundell, to install them at their facility and to establish the lead-free processes and train the equipment operators. These preparatory steps were necessary to successfully perform the changeover as planned on a single weekend. The wave soldering system was installed in Luton, with two solder waves and a preheat length of 1, 5 meter, features a pallet-type conveyor, which allows that boards of different geometries can be processed one after the other.
Support with quick reaction
It was a difficult task to realise, but in the end it worked out because Ersa, through its partner Blundell, was very close to us as a customer. Support was offered with short ways and quick reaction times. This, next to the performance of the Ersa soldering units, was very important for us.

"We would like to express its gratitude to the Blundell/Ersa team for the assistance granted in setting up the optimized operation of our new wave and reflow soldering systems. We are very satisfied with the equipment and the services delivered, particularly in view of the changeover to the lead-free process", writes Dipen Dixit to his contacts at Blundell and Ersa. We also use hand soldering products from Ersa – 50 i-CON single soldering stations were sent to us, after they had proven to be more economical and easier to handle. We look forward to continued good business relations with zero tolerance for defects!
---