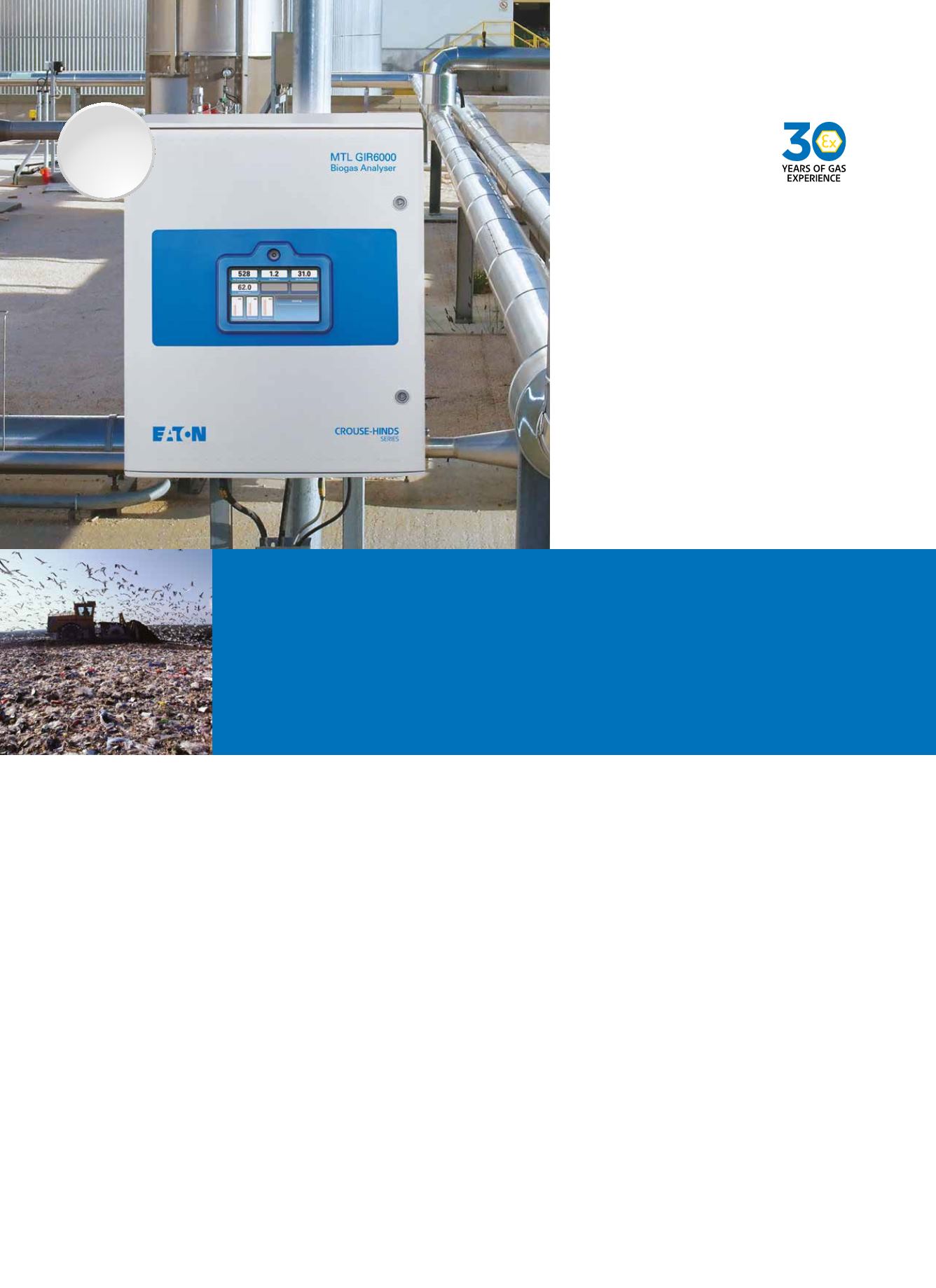 EATON Crouse-Hinds series MTL products
MTL biogas monitoring
5
Helps achieve optimum plant efficiency
Low cost of ownership
Easy installation and commissioning
Typical Applications:
Digester gas analysis
Landfill gas monitoring
CDM verification
Gas-to-grid
CHP engine protection and efficiency
Flare stack monitoring
The new
MTL GIR6000 Biogas Analyser
is
the ideal instrument for biogas applications.
Where the measurement of methane
(CH
4
), carbon dioxide (CO
2
), oxygen (O
2
) and
hydrogen sulphide (H
2
S) have implications
on both the efficiency and safe working of
biogas processes. Dedicated modules for
up to 6 gases are available for use in Zone
2 hazardous area applications. Other trace
elements are often also present and may
need measurement.
Methane is the desired component in
fuel gas for CHP engines or burners by
using the measurements from the MTL
GIR6000. NDIR sensors are used to
measure methane and carbon dioxide.
These are sensors specially designed to
withstand the damp, corrosive atmosphere
often found in these applications.
Oxygen is an important process
indicator in digester gas where a high
reading may indicate a decrease in
microbial activity due to poisoning or
overloading. For this application, special
long-life electrochemical cell designed
for use in the presence of acidic gases,
e.g. carbon dioxide are used.
Hydrogen sulphide is present in
digester gas in varying amounts
depending on the waste composition.
Hydrogen sulphide is highly toxic and
can be extremely corrosive to engine
generator sets. Accurate monitoring
can prevent costly damage. Eaton have
developed a system which allows for
continuous measurement of H
2
S. Even
at 2000ppm H
2
S, good sensor lifetime
can still be achieved.
Modular sensor design is an innovative
feature of the MTL GIR6000.
Self-diagnostics on each sensor
inform the user if a sensor needs
attention, minimising regular service
and maintenance requirements.
Replacement is quick and done on-site,
without special tools or training and the
modules are pre-configured to allow
"plug-and-play" installation. All
modules are replaceable in the field
minimising downtime.
These are hazardous area applications
by their very nature. All MTL GIR6000
versions are designed for use in Zone 2
hazardous areas according to the Industry
Code of Practice ESA ICoP Edition 2, a
decision endorsed by the Health & Safety
Executive in the UK.
New