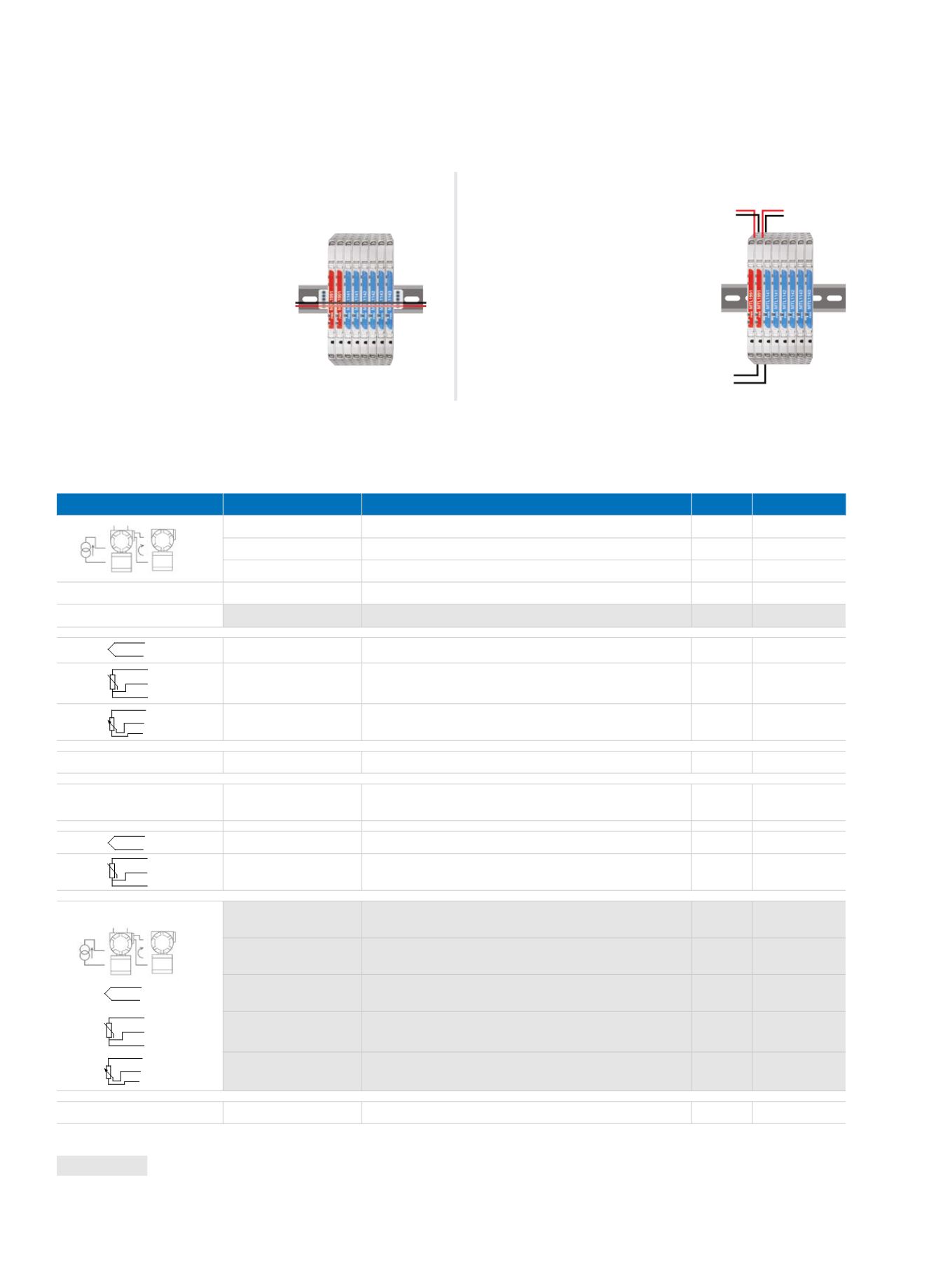 EATON Crouse-Hinds series MTL products
MTL1000 range signal conditioners
5
The MTL1991 offers an alternative
to feeding power directly onto
the power-bus. For added power
security the MTL1991 module
option features an alarm output
for instant notification of power
failure. The addition of another
MTL1991 module delivers
redundant power feeds, thus
increasing system availability.
MTL1000 power options
MTL1991 power feed and alarm module
PSU1
PSU2
Alarms
The MTL1000 incorporates the use
of an embedded power bus in the
DIN-rail. This provides power directly
to the modules, reducing the amount
of wiring upon installation. The
power bus connectors simply plug
together and can be expanded to
accommodate the required number
of isolators. Spare positions can be
easily installed for future expansion.
Embedded power-bus
Application
Catalogue number
Description
Width Power-bus
MTL1141
4-20mA Tx repeater PSU
6.2mm Required
MTL1142
4-20mA Tx repeater PSU HART
6.2mm Required
MTL1143
1 in 2 out Tx repeater
6.2mm Required
Ver I/I
MTL1144
V/I to current repeater, loop powered
6.2mm Loop powered
I/I (outputs)
MTL1145 *
4-20mA loop powered current repeater
6.2mm Loop powered
THC
MTL1171
THC converter - 4-20mA/1-5V (type J or K)
6.2mm Required
RTD
MTL1172
RTD converter - 4-20mA/1-5V (PT100)
6.2mm Required
POT
MTL1173
Potentiometer - 4-20mA/1-5V 100
Ω
to 100k
Ω
6.2mm Required
Switch / Prox inputs
MTL1211
1ch Switch isolator, Namur/contact I/P, 2 outputs Rep/LFD 6.2mm Required
V/I I/V V/V I/I
MTL1249
Input 0-1V, 0-5V, 0-10V, 1-5V, 0-20mA, 4-20mA
Output 0-5V, 0-10V, 1-5V, 0-20mA, 4-20mA
6.2mm Required
THC
MTL1271
THC converter (type J or K) - loop powered
6.2mm Loop powered
RTD
MTL1272
RTD converter (PT100) - loop powered
6.2mm Loop powered
Trip amplifiers
MTL1321 *
0-10V/0-20mA trip amp, c/o contact out
17mm Optional
MTL1341 *
4-20mA trip amp - 2SP with current repeat
17mm Optional
MTL1371 *
THC trip amp - 2SP with current repeat
17mm Optional
MTL1372 *
RTD trip amp - 2SP with current repeat
17mm Optional
MTL1373 *
Potentiometer - 2SP with current repeat
17mm Optional
Power
MTL1991
Power feed module and alarm module
6.2mm Required
Selection guide
* For future release