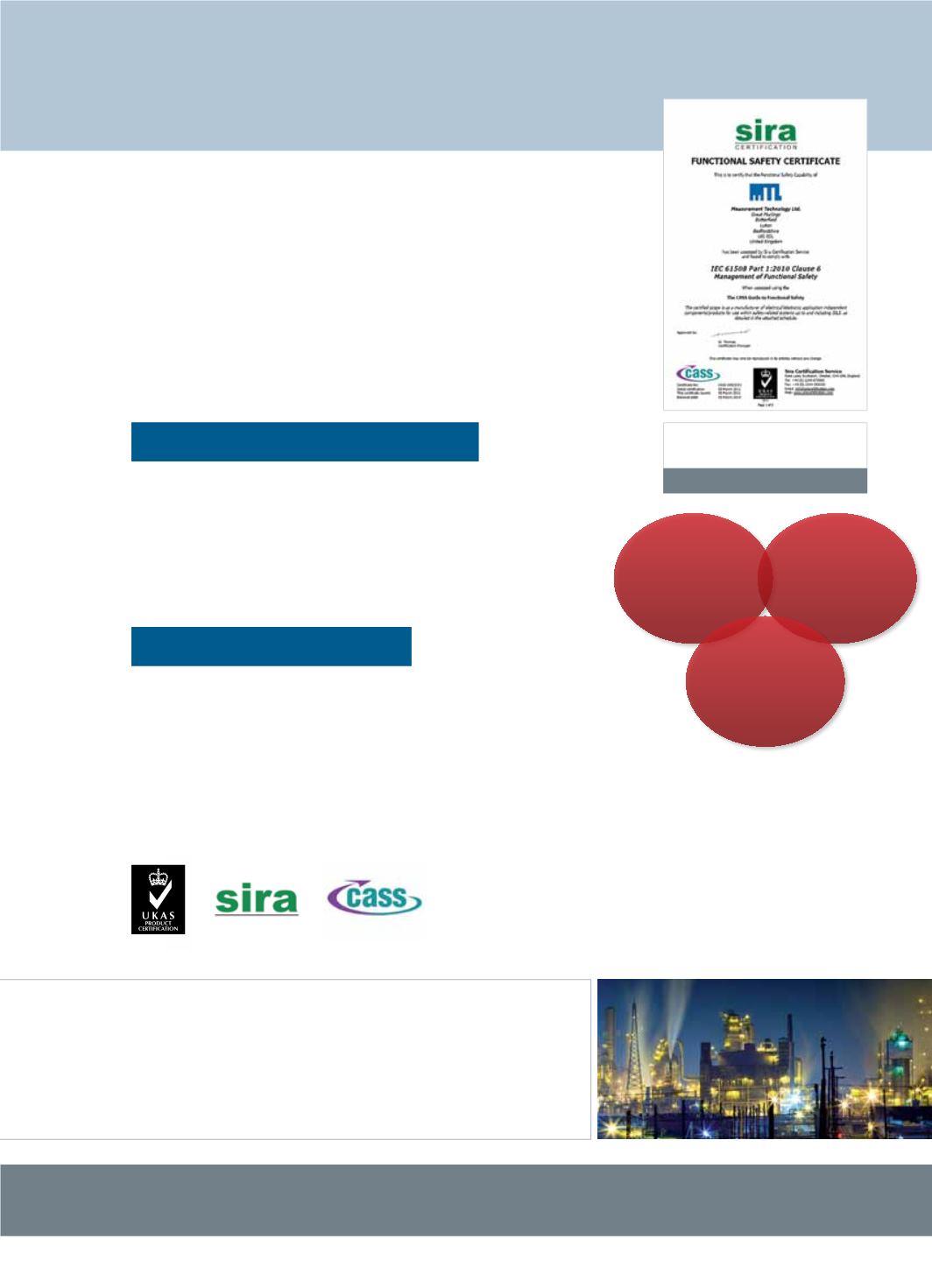 How MTL is accredited for FSM
International safety standards IEC 61511 and IEC 61508 identify an overall approach
to determine and apply safety within the process plant. This approach directs the user
to consider all required phases of the
Safety Systems Lifecycle
outlined in MTL's
FSM poster.
Everyone involved in the lifecycle needs to demonstrate
Functional Safety
Management
to comply with the standards.
MTL chose to obtain
FSM
accreditation to demonstrate competence to design and
market products in accordance to the standard. This gives customers confidence and
assurance when using MTL products in safety instrumented systems (SIS) without the
need for further verification of documentation.
Taking
the right
decisions?
Independent
checking to
eliminate errors?
IS staff
competent?
MTL's procedures, competence and safety management are assessed through the
external certifying body
SIRA
. This certification assures that MTL's FSM system is
audited by a
UKAS
accredited body, ensuring customers of quality management.
MTL follows the
CASS
scheme (Conformity Assessment of safety-related systems),
which is a framework underpinning IEC 61508 certification. This provides an
internationally accepted structure under which certification of safety-related systems
can take place.
MTL, a supplier of process instrumentation,
is now certified as a Functional Safety
Management (FSM) company
MTL's Management of
Functional Safety
MTL's functional safety activity focus
•
Specification, application, design and development of products for use in
functional safety systems.
•
Competent staff to undertake Functional Safety activities when participating
in projects in IEC 61508-1:2010 and MTL developed a programme for
achieving and maintaining staff competence.
MTL's competence assessment
CERTIFICATION SERVICE
Functional Safety
Approved Company
011
CERTIFICATION SERVICE
Functional Safety
Approved Company
011
Certificate No.
CASS 00015/01
CERTIFICATION SERVICE
Functional Safety
Approved Company
011
CLICK HERE