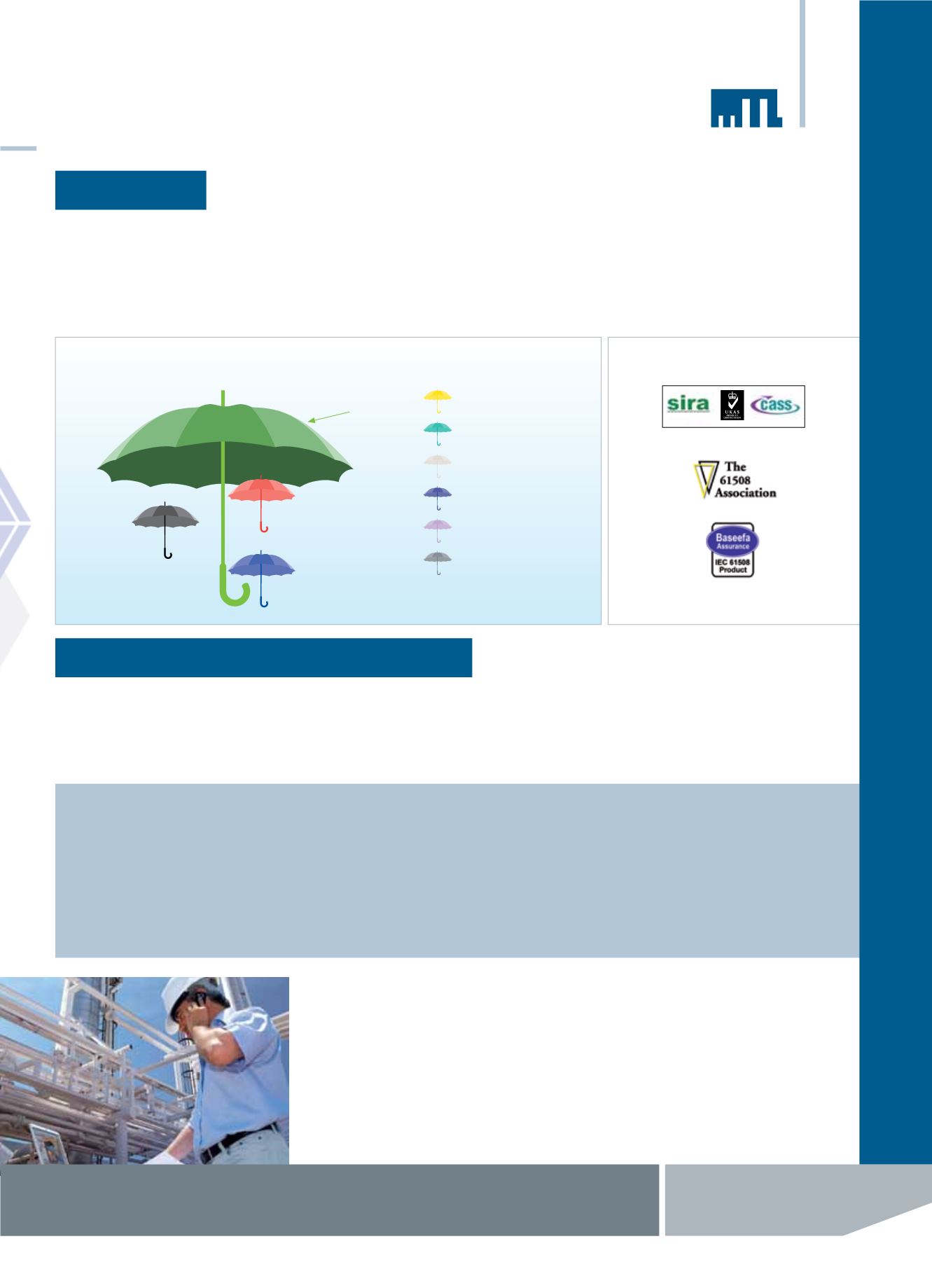 www.mtl-inst.com
2/3
Industry Standards
Introduction
The International Electrotechnical Commission (IEC) develops and sets international standards in electro technical engineering areas.
In 1997 the IEC published the IEC 61508 standard for functional safety of electrical/electronic/programmable electronic, safety-related
systems. IEC 61508 is the generic standard and is further defined by specific industry standards, for example; IEC 61511 for the process
industries. IEC 61508 mainly applies to device manufacturers whereas supplier IEC 61511 would be used by safety instrumented system
designers integrators and users.
Why is IEC 61508 different to other standards?
Most standards are prescriptive or rule-based; if you follow the rules you have met the requirements of the standard. IEC 61508 takes an
approach often called performance-based. Although there are some numeric limits, most of the requirements are specified in terms of
what is to be achieved rather than exactly how to do it.
Fundamental concepts of IEC 61508:
1.
The notion of functional safety. Provision of
safety functions
for mitigation of risk associated with abnormal situation.
2.
A focus on risk
reduction
. The standard implicitly assumes that there is no such thing as zero risk - risk cannot be entirely eliminated.
3.
The notion of
Safety Integrity Level
, or SIL, of a required function. There are four degrees of SIL, SIL 1 through SIL 4, ranging from
moderately stringent to very stringent.
4.
A detailed system
life-cycle model
, from initial development through decommissioning.
SIRA, a UKAS accredited body, has certified
MTL (Measurement Technology Ltd) as being
compliant with IEC 61508-1:2010
CERTIFICATION SERVICE
FunctionalSafety
ApprovedCompany
011
Certificate No. CASS 00015/01
IEC 61508 Umbrella - Covers all sectors
IEC-61508
All
Sectors
IEC-62061
Machinery
IEC-61513
Nuclear
IEC-61511
Process
Industry
60215 Radio Equip.
(other)
60255 Meas. relays
60601 Medical Equip.
62128 Railway
62477 Pwr. Semicond.
60601 Medical X-Rays