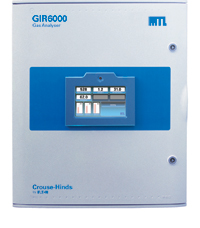 <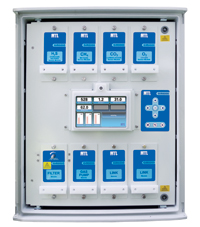 MTL, part of Eaton's Crouse-Hinds business, is proud to introduce the next generation of Biogas analyser, the MTL GIR6000, featuring innovative modular sensor design.

Designed specifically for the demands of the Biogas market, this analyser provides reliable and accurate measurement, helping you to optimise your productivity and improve plant availability. The MTL GIR6000 innovative modular concept not only enables quick and easy installation and commissioning, but allows users to maintain sensors on-site without the need for engineer site visits or expensive service contracts. This integrated platform system also offers the flexibility of upgrading or expansion to meet future demands as your plant's measurement needs evolve.
Installation flexibility with an Integrated solution in an IP65 enclosure
Customisation of up to six intelligent gas modules using an innovative platform concept CH4, CO2, 02, H2S, H*, CO*

Simple, quick start up and programming using clear 7" LCD display with rugged push button menu - no need for specialised skills
Comprehensive Alarm functionality indicates current status of sensors
Real time data utilising analogue outputs, relays and digital communications to the host control system
Full traceability of plant performance with event logging and diagnostics
And more...
*Carbon Monoxide and Hydrogen available in phase 2 release

The MTL GIR6000 is suitable for applications such as:
Digester gas analysis
Landfill gas monitoring
Flare stack monitoring
CDM verification
Gas-to-grid