Hydrogen Cooled Alternators and Turbines.

Modern power station installations regularly use Hydrogen gas, with its excellent thermal conductivity properties, as the coolant medium for high capacity turbo generators or alternators; with the efficient performance and safe operation of the plant being crritically linked to the gas quality used.
It is important to maintain the hydrogen purity level for both plant safety and economic reasons. Accurate measurement of hydrogen purity is essential to provide an early warning of a potentially explosive mixture of hydrogen and air. To increase plant productivity and control generating cost per megawatt, turbine generators must perform with optimum efficiency. A drop in the hydrogen purity causes additional windage losses and consequently reduces the generator efficiency. The payback from purity enhancement is immediate and impressive, with the following plot showing how decreasing hydrogen purity levels can directly impact the plant economics.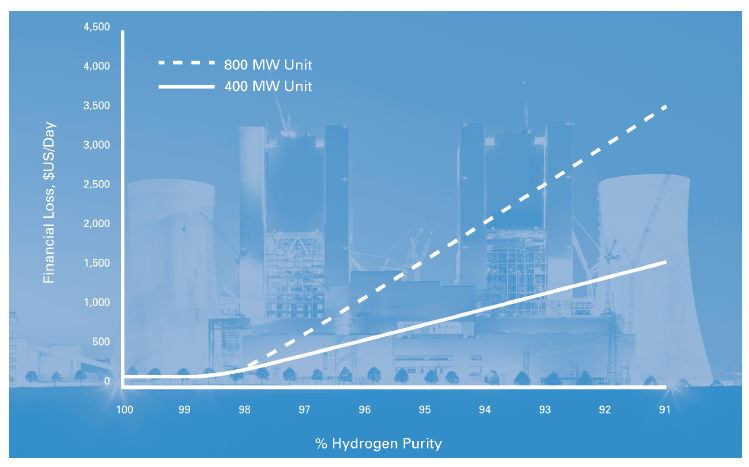 Our alternator purge analyser range has been developed with the specific requirements of power plant customers in mind. Over the past 30 years, we have worked closely with Plant Operators, OEMs and Generator manufacturers alike to develop the latest generation of alternator purge instruments.